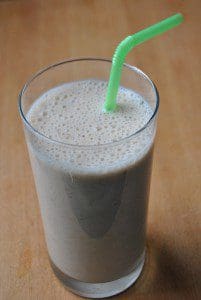 Here is a smoothie for when you're feeling distracted.  The complex carbs present in the oat will help your brain and the amino acid tyrosine present in the protein powder will make you mentally alert.  Something for those days when your to-do list is miles long!
Oatmeal Cookie Smoothie
Ingredients:
½ cup oats
1 scoop of vanilla protein powder
1 cup skim milk,
1 teaspoon of coconut oil
1 teaspoon of maple syrup
Handful of ice
Blend the first five ingredients until smooth and add the ice and then blend and serve.
Did you sip your way to a distraction-free day?  What are other mood-boosting healthy foods that you reach for?